High Quality & Low Prices

At Printaims we are equipped with the latest in Large Format technology to offer premium quality posters in Stockport and the wider UK. As a result we can offer the whole spectrum of posters sizes and specifications, at both large and small order volumes. If you are looking for high quality posters in Stockport then you have come to the right place!
We currently have contracts in place with some of the UK's leading organisations for poster printing on a large scale, but we are just as well equipped to produce one off posters for the smaller independent firms.
We can produce the posters directly from your supplied artwork, or we can provide an artwork service at £25 per hour from our in-house studio.
At Printaims we offer market leading prices for posters in Stockport, however the job you receive will not reflect the cheap price you pay. We produce all our goods in-house with employees that have spent years gaining our reputation for premium quality, and despite our low costs we guarantee the highest standard of printing.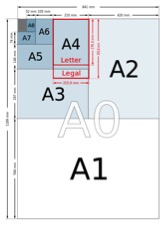 International paper sizes based on the German DIN standard for paper sizes:-
A0 posters 841mm x 1,189mm (33.1" x 46.8")
A1 posters 594mm x 841mm (23.4" x 33.1")
A2 posters 420mm x 594mm (16.5" x 23.4")
A3 posters 297mm x 420mm (11.7" x 16.5")
A4 posters 210mm x 297mm (8.3" x 11.7")
The below image will help you visually see the sizes in relation to A4.
We firmly believe we supply both the cheapest prices and best quality posters in the UK and we are happy to meet any like-for-like quote to prove this. We have a broad range of machinery which means we can produce posters cheaply whether it is a couple of posters for a friend's birthday bash, or several thousand posters promoting an event.
If you have any special requirements, or want to discuss a job please contact us on 0161 429 9552 or sales@printaims.co.uk